Surprises, I believe, are the lifeblood of relationships. Wouldn't the worst thing be to find your love's every action and word expected and "the usual"? There's something comforting about knowing someone – through and through – and not being on a roller coaster ride of emotional twists and turns — but at the same time, that can be boring. And I think boring is very bad. Of course, not that this needs to be said, there needs to be a balance of stability and surprise.
From the very beginning of our relationship, Nick and I have been surprising each other. A random delicious dinner in a neighborhood we'd never explored, cupcakes from my favorite bakery, whatever. Eventually (because Nick is the master of perfectly naming things), we started calling this phenomenon "Wednesday Surprise".
Wednesdays, the middle of the week — hump day, if you will — has now become to us, as exciting as a Friday or Saturday night. We take turns surprising each other, depending on who simply has an idea! It always evens out.
Below, I'll highlight a few of the great Wednesday Surprises we've been on — and hope it inspires you to try the same! Whether you're in a relationship, or not, surprise someone in your life! You'll both be happier on Wednesday.
Nick's Surprises
Live Salsa Dancing + Lesson at Hudson River Park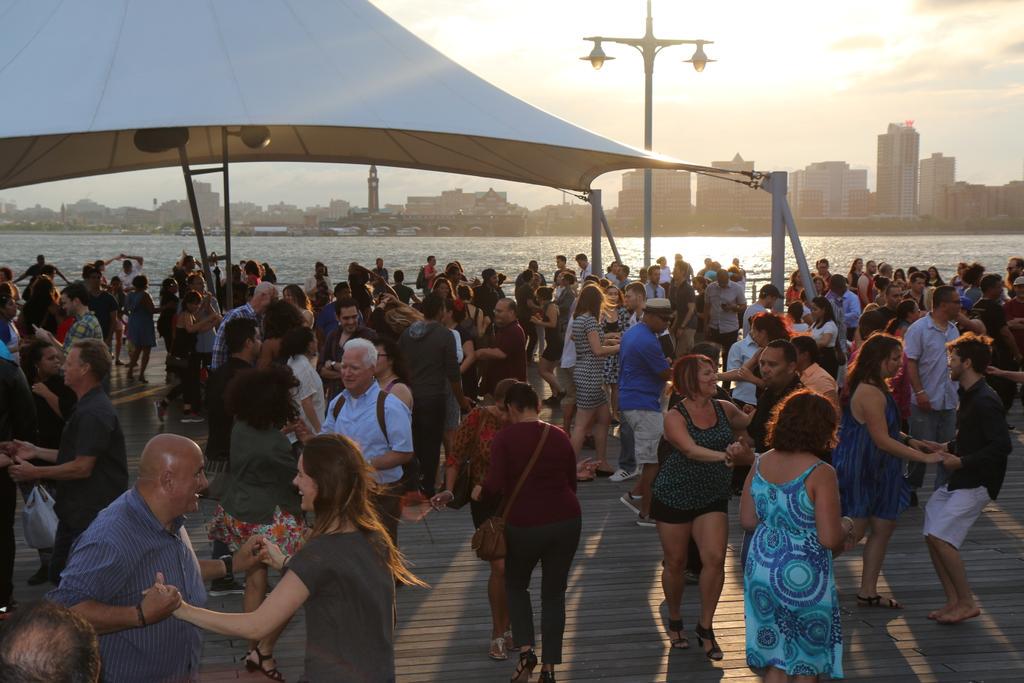 This was silly and fun, and a definite surprise. It'd be more something I'd surprise Nick with than the other way around, which is why it felt so special. We danced with hundreds of other people on the Hudson River, and then went to a Spanish restaurant nearby. A perfect night.
Sometimes Nick and I just walk through the neighborhood and walk into establishments we've never noticed before. This is how Nick and I found our way down the stairs into this unbelievable underground Jazz spot. Jazz is close to our hearts, since it was the first place he took me out on a date (we went to Zinc Bar, also West Village).
Awaiting beautiful bouquet of flowers at home
This. This perfect thing. Everyone should do it. It is an instant mood CREATOR. Uh, love.
Grocery Trip + Zoodle Dinner
Ah, yes, how romantic — a grocery trip, right?! Really, right. Grocery shopping when it's made into an "event" is actually so much fun. Plus, after picking up all your ingredients, you can have a fun cooking night together. We tried out a new zoodle maker, and it was a blast. We cheated our bodies into thinking we were eating carbs and it was lovely.
My Surprises
Last night, Nick and I went to go see Oh Hello!, the new show starring Nick Kroll and John Mulaney. It was hysterical. Highly, highly recommended. I grabbed Nick's hand, dragged him on the subway to 42nd street (Yeah, Times Square!!…), grabbed drinks and some appetizers at a random place nearby the theater — and then made him stare at the sidewalk until we were right in front of the theater. When he looked up in actual shock…that's when it's all worth it.
Dinner + a movie at Nitehawk Cinema in Williamsburg
I've raved about Nitehawk in a million other blog posts — but doing it for a Wednesday Surprise was especially fun because Nick didn't realize he was leaving one borough, and entering another! Gotta love cross borough Wednesday Surprises.
A Trip to the "Will Ferrell Bar", Stay Classy New York
This was especially fun, because I figured Nick had at least heard of this Will Ferrell bar, but he hadn't. Double surprise win.
It's less what you actually do, and more that you're doing it. Think about that for a second. You could not be telling the person you are with that you care about them anymore.
You are telling them that you: 1) Thought about them that day. For sure, you did. That's amazing. 2) You care enough about them to give them your limited free time and energy with some sort of activity. 3) You flex your creativity muscles for them — coming up with something you think will make them happy. It's selfless, while also being a win/win.
I'd recommend planning your Wednesday Surprise by asking yourself the following questions:
What does the person you're thinking about love to do? Hobbies, skills and what they do when they want to unwind are all great options to think about. Because likely, they've had a long day of Wednesday-type work, and they don't want to do put too much energy into their night activity.

What's going on around you? Check local park activities, restaurant specials or happy hours. Look for free events — that way there is no pressure financially on either of you!

Think small, big or whatever feels right. Coming home to flowers unexpectedly could bring me as much joy as two tickets to an opera. Truly. What it says: He wants to make me happy. That's all I need. Grab them their favorite cupcake from the bakery around the corner, or pick up the book you heard them talking about. They are little costs — but they mean oh so much on a Wednesday.

When in doubt, do something that celebrates art. Film, bookstore readings, off-off-broadway plays, cabarets, live Jazz — do something that gets the two of you talking! And the memory will last forever.
Enjoy and have a wonderful next Wednesday!