Back to school. It's coming up! I am not going back to school (in the obvious sense of the word) this fall, but I will forever be excited about the month of September for the following reasons:
My birthday. September 6th. Great day. Also, my due date. Very prompt bebe.
Since we were 6 years old (or younger), this time of year was pounded into our little heads as a new start, the beginning of another year of knowledge, and the time to create. I think that will forever be a part of our psyches. New materials (pens, pencils, notebooks, folders — the dream trip to Staples I pined for), new classrooms, new lockers, new friends, new teachers…I will always love that new, exciting feeling of a beginning in September.
THE FALL! Beautiful, warm colors and slightly crisp air. The best kind of NYC weather. Even the sidewalks feel like clean, (I know they are not) stable paths to happiness.
And going off of reason #3, fall fashion. Fall fashion is always on point. Layering, thin sexy sweaters, polka dot tights, leather jackets…basically, fall can't come soon enough.
But more importantly, I chose one element of fall fashion – backpacks – that I believe do and mean a lot more than making a fashion statement.
This compilation of backpacks consolidates all of my reasons for loving this upcoming season of learning and cool, crisp "back to school" excitement. Backpacks carry our lives, our work, our hobbies…they are the perfect gift to offer ourselves. Investing in a backpack that is appealing to you, and does what you need, is like telling yourself that you believe in what you're trying to do with this life you've been trying to live.
So strap one on and start your refresh in this childhood new year.
EcoCity Unisex Classic Travel Laptop Backpack in Pink, Grey or Coffee.
I love this bag because it's simple, structured and easy to grab and go. It's on sale for $35.99, off of $60! The pink color is unique, especially in that denim material.
Abshoo Causal Travel Canvas Rucksack Backpack in Black or Blue
I like the size of this pack, because it's big enough to carry your laptop and any other essentials but it's not "backpack big". Plus, it's on sale for $29.99! The blue is stunning, but I also love the black and white stripe.

Leaper Lightweight Canvas Laptop Backpack in Black or Deer Beige
Canvas and artificial leather make this backpack feel super durable and luxe. I love the color blocking between floral and solid colors in some of the other designs. The deers are too adorable not to mention.
Perfect for running to and from the office, this gray backpack looks insanely comfortable. I could see it styled with sheer black tights, booties, a mini black leather skirt and a white t-shirt. Gorgeous.
Herschel Supply Co. Little America Backpack
I have been a fan of Herschel backpacks for a long time. I still have the one I bought for my Sophomore year at NYU! They are a fantastic investment, because they really last forever. I love this baby blue and brown leather contrast backpack below.
The unexpected metallic combination of purple, silver and gold makes for a fabulous backpack. You must feel like a goddess every day leaving your apartment with this beauty on your back.
Moschino Love Moschino Backpack
Faux fur in the shape of a heart + leather = I'm sold.
adidas by Stella McCartney Backpack
For the sporty girl in all of us! This backpack is super lightweight and perfect for running straight from the office to the gym.
Stussy Clear Tarpaulin Lawson Backpack
When I was in middle school I had a clear backpack, and I thought I was so cool because I'd put all of my favorite magazines on the edges. I thought I had a new backpack each month I changed them out. Maybe I will give that a new go with this adorable clear, textured backpack.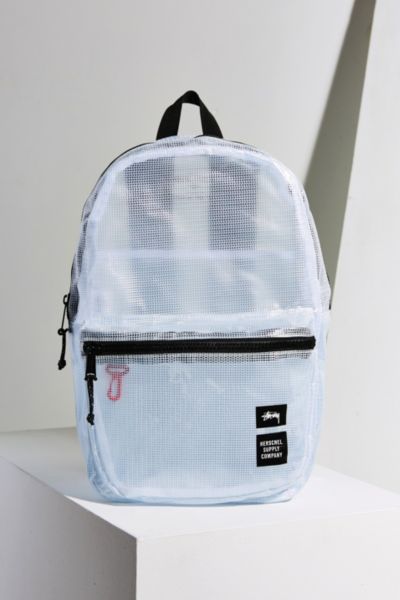 Structured perfection. A briefcase turned backpack for the modern woman on the go.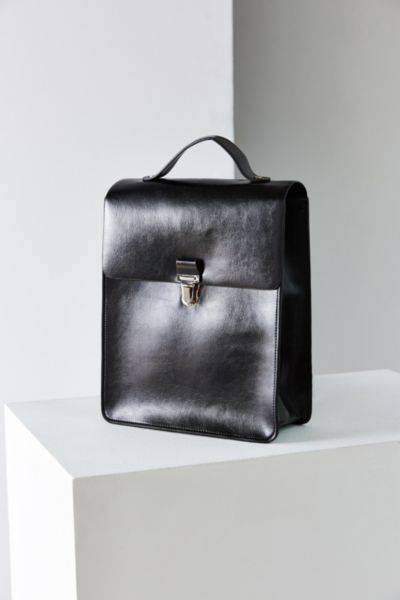 Because I'm always.