Decorating an apartment can be a little daunting – especially in the confines of teeny tiny NYC. But, a girl can dream right? Here are the pieces that I find charming and magical — some within the money and space budget, some not. I hope you find a little inspiration here — or maybe even your next exquisite throw pillow. If you walk away with anything, you'll certainly find out where to go internet window shopping!
Luxe Fur Stool, Anthropologie, $348
Swirls and Drops Floor Lamp, Pier1, $199
I've been eyeing this lamp for a while now — since I have an ongoing feud with my current floor lamp which somehow beats me up on the reg.
Velvet Lyre Chesterfield Sofa in Hickory, Anthropologie, $2,498
Again — sorry for the imminent couch-envy this will create. But we can dream!
Magical Thinking Carved Wood Indoor Swing, Urban Outfitters, $98
Yo — it's my birthday on September 6th…this is what I'm asking for.
4040 Locust Industrial Storage Rack, Urban Outfitters, $498
Calling all New Yorker's without closets — how perfect is this thing?
Beige Feather Edge Cushion, Zara Home, $29.90
Stump side table, CB2, $179
I'm sorry…did you not also dream of having The Giving Tree in your apartment?
Collaged Majida Throw, Anthropologie, $148
RococcoLA Happy Elephant Shower Curtain, Urban Outfitters, $59
Arabesque Lantern, Zara Home, $59.50
Rosie smoke table lamp, CB2, $149
Taylor Valley Bench, MoveLoot.com, $200
It's 60% off!
Burnin' For You Matches, Lulu and Georgia, $10
Crosley Rockout Portable Turntable, Nasty Gal, $100
Also, listen to this record on it.
Slim Aaron's "Donald Leas" Photograph, Jonathan Adler, $995
You need some weird rich people art in your tiny space, too.
Animalia Coasters, Jonathan Adler, $78
Wellington Hide Rug, One Kings Lane, $599
Puffin in Bloom Collection, One Kings Lane, $64
Coffee Addict Candle Set, Fab, $38
Bamboo Whale Wall Clock, Fab, $70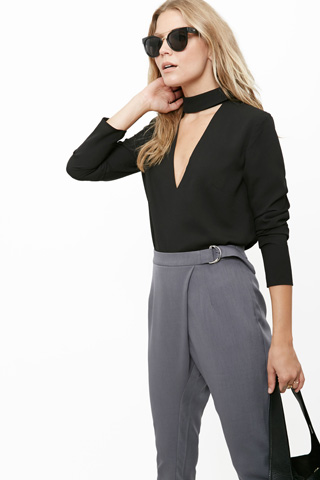 And finally, you'll need a new outfit to lounge around in your new luxe apartment. Check out DailyLook — I'm trying their subscription service and my first box arrives Friday! I'll let you know how it goes.
Enjoy the weekend. xx